The main goal of this article is to help you get a digital product with the best possible design, that's why cannot omit another important aspect — customer experience (CX). This concept has a lot in common with the user experience; however, they have different focuses.
UX refers to the overall experience that a user has while interacting with a product (its usability, functionality, accessibility, visual style, etc.). CX is a broader term, and it's all about the experience that a customer has with a particular company or brand. It includes all interaction points a customer has with a company, from initial awareness to desire to make a purchase (and even communication after making the purchase). The process of creating this experience is called CX design.
A good CX design can create a positive perception of a brand and increase customer loyalty. However, without a well-designed UX, you have no chance to build a positive customer experience.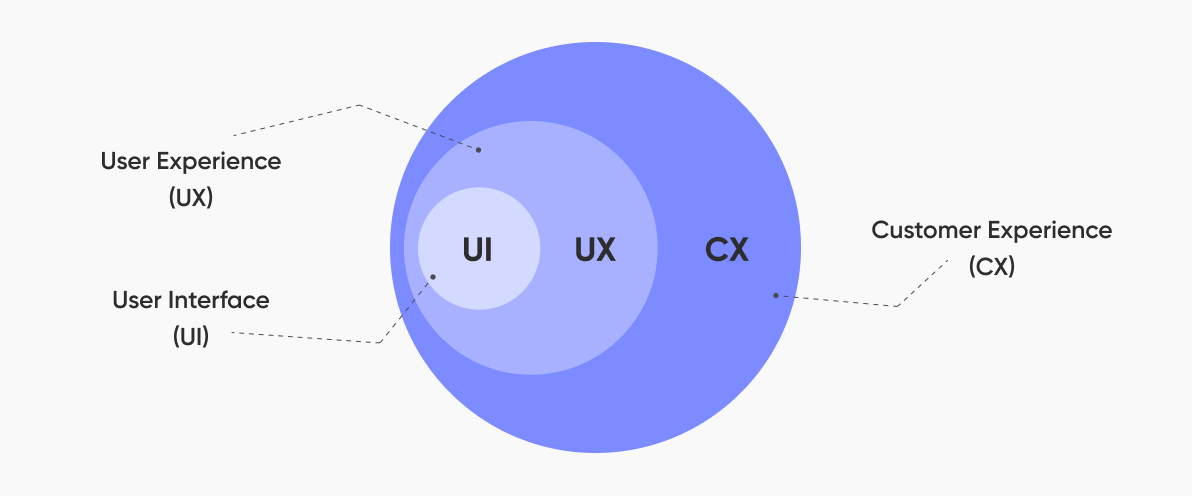 Let's look at how CX and UX/UI designs affect each other:
01. CX design is all about listening to customer feedback and refining the product based on it. This is also crucial for good UI/UX design as regular testing, feedback analysis, and iterations will result in better design, and increased customer engagement and satisfaction.
02. The aim of CX design is to create an emotional connection between the customer and the brand. A well-designed UX/UI can enhance this connection by providing a delightful experience.
03. Consistency is a must for CX design because it creates a sense of trust and brand reliability. You should preserve this consistency in UI & UX design as well to build a strong emotional connection between the brand and your customer.
You should sync up your CX and UX design to build a smooth and positive experience for your customer. How can you do this? Build your brand with a user-centric approach — starting from the way you treat your customers and to small visual elements your customers adore! Sure thing, you should spend some time on deeper research of your target audience but the game is worth the candle.